Vital Connect's HealthPatch
Vital Connect's amazing HealthPatch™ works with SweetBeatLife. The HealthPatch biosensor has two components: the reusable sensor module and the disposable patch.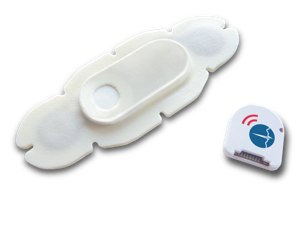 The HealthPatch detects the following biometric measurements:
Heart Rate
Heart Rate Variability
Respiratory Rate
Skin Temperature

*

Body Posture including Fall Detection/Severity
Steps

*

Stress

*

Sleep Staging
HealthPatch doesn't work with iOS 8.
An update will be available soon.
More information about HealthPatch
* Not recorded or used by SweetBeatLife™. SweetBeatLife uses a proprietary algorithm for determining stress levels.
We have tested SweetBeat with Polar Wearlink®, Zephyr® HxM,and the 60beat® BLUE. We have found them accurate and reliable.These Bluetooth straps only work on iPhone 4S and5, iPad 3 and newer, iPod touch 5th gen. Other BTLE heart monitors also work but have not been tested.
SweetBeat is compatible with the following Bluetooth® enabled sensors:
Note: Why doesn't SweetBeat work with Wahoo Blue HR?
Due to technical reasons, we cannot support the Wahoo Blue HR. While it works great for heart rate, it is not accurate enough for Heart Rate Variability(HRV). We have worked closely with Wahoo on this and have been unable to resolve the issue.
SweetBeat also works with popular health sensors
and cardio clothing:
Wahoo Fitness - Wireless ANT+ Heart Rate Monitor for iPhone

Wahoo Fitness dongle or case with Garmin or ANT+ compatible heart rate monitor

60Beat - Wireless Heart Rate Monitor for iPhone

60beat iphone dongle with Polar or other analog compatible heart rate monitor

NuMetrex - Heart Rate Monitoring Apparel

Numetrex heart rate bra and cardio shirt. The Numetrex cardio products will work with both the 60beat dongle and the Wahoo dongle. Just snap off the transmitter from your chest strap and snap it into the Numetrex bra or cardio shirt.

The Numetrex transmitter or a Polar analog 5.3khz transmitter will work with the 60Beat dongle. A Wahoo or Garmin ANT+ transmitter will work with the Wahoo dongle. If you plan to use Numetrex garments, be sure your chest strap has a detachable (snaps) transmitter.
These heart rate monitors can ONLY be used for food sensitivity testing